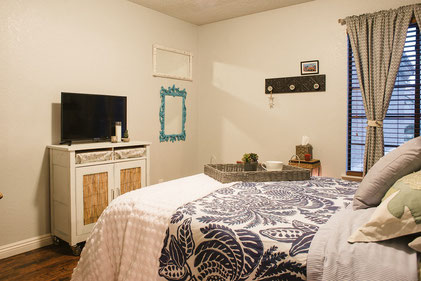 Like so many projects that journey in and out of the BOHO HOSPITALITY sphere, this little, portable beverage cart (here it's posing as a TV stand) isn't exactly a "before" picture so much as a "not quite right the first time" picture.
The pale colors bleed into the walls of the room and my idea of "masking" the holes where the drawers were missing wasn't fooling anyone.
---
Let BOHO HOSPITALITY design your next project (using what you already have, of course)
---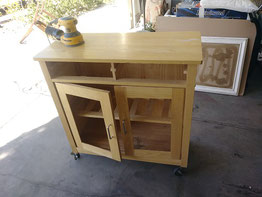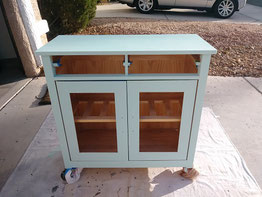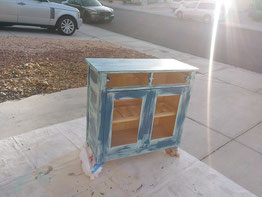 ---
Glaze is your friend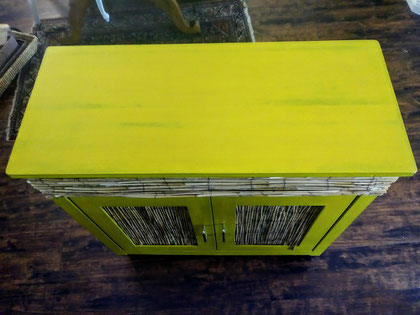 What you're seeing here is those original coats of paint showing through the yellow glaze. If I had not dyed my glaze yellow (and instead used yellow paint), I would have had to sand through all those coats of paint to get this multi-colored "grain". Even then, I would never have gotten this smooth, shellac-like surface (which I really like, BTW). 
Glaze is your friend: It acts like a shield, protecting the work you just did while allowing the multi-layers of color to filter through. 
---
Just like people, furniture is best when it's being its most authentic self
---
Originally I thought this little microwave cart (Yep, that was its original incarnation) would serve as a terrific portable island in my kitchen. But seeing that my house is the TIKI HOUSE, I just had to Viva Las Vegas it up so it fit into my tiki, boho decor.
Let's DO THIS!
Please tag me on Instagram (@juliebohost) or email me pictures of furniture, accessories and rooms (anything you're willing to alter) that aren't, um, living up to their potential. 
If your picture is selected, BOHO HOSPITALITY will use it as inspiration for its next WHAT IF? project. This includes having our team create an idea board + step-by-step directions YOU (or anyone, for that matter) can follow to turn the ideas into reality. (Kinda like our adorable, portable tiki cart transformation featured here.) 
---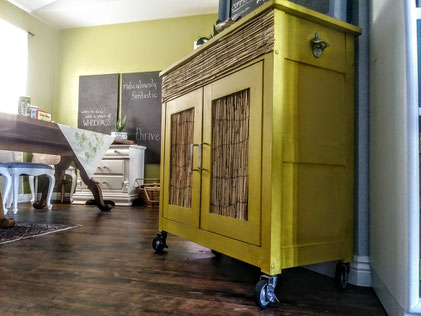 Let's share ideas and get inspired to create functional art that adds richness to our life story.
---