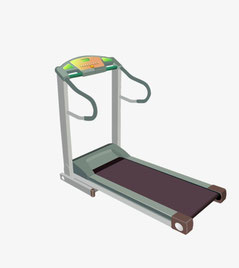 We've all done it: We wake up one morning energized to make big changes in our lives!  We're pumped to get this new, improved lifestyle up and running. We can visualize it. Taste the sweet victory of success . . . . armed with these amazing intentions, we go out and buy a very nice, very expensive piece of exercise of equipment. . . .
And during that first week we give it a go . . .
We're walking on it a few miles
We're moving up to a slow jog
We're invited by friends to go get margaritas . . . and skip a day
That day turns into a week
Then a month . . . .
Until we realize that what we've really invested in is an ugly clothes hamper that's too big to shove in a closet.
What had started as the solution to our problem is now a constant reminder of what we're NOT DOING every time we walk in the front door. These metaphoric treadmills clutter all areas of our lives: dusty self-help books crowding shelves, well-intentioned financial service apps draining our data, closets full of clothes we haven't fit into in years.
IT HAPPENS
It's not about lack of discipline or some other character flaw: It's about harnessing those good intentions in productive ways on a TEAM instead of flying solo.

JOIN US!   BOHO HOSPITALITY is here to offer you hope:
We're that buddy who goes to the gym with you at the crack of dawn
The stranger who stops what she's doing to offer you a hug
Your sage relative who listens instead of constantly chiming in 
Julie created BOHO HOSPITALITY because we're all craving to be more connected with each other. On the personal side, this translates into lovely home-based DIY Inns where travelers feel welcome and valued. On the business side, BoHosts are given the tools and guidance needed to make their home (or a portion of their home) a money making enterprise that complements their chosen lifestyle instead of competing for their time.
How do we do that?
---
The BOHO part of our name comes from "bohemian." This eclectic, whimsical design style allows us to create guest spaces that are both comfortable and friendly while remaining affordable to achieve. Really? Because this design style is infinitely versatile and fun, we're able to start with what you love and work with what you have.
True HOSPITALITY is that rare blend of generosity, grace, and openness. It's one of those things you know it when you feel it. When BoHosts open our homes to guests, we're sharing a piece of our hearts with people who value our personal, home-based brand. Paying attention to details, providing a welcoming environment, and being a good neighbor are all trademarks of BOHO HOSPITALITY and our BoHosts.
---
Contact us and learn how you can join our BoHost network or attend one of our many community education DIY Inn workshops offered all over the southwest.
---
Boho Hospitality Mentoring Brochure
Interested in learning how BOHO HOSPITALITY can help you reach your personal and financial goals without sacrificing on lifestyle?
MENTORING BROCHURE.pdf
Adobe Acrobat Document
96.3 KB
---